Frequently Asked Questions Greater Baton Rouge Pre-Listing Home Appraisals FAQs
NOTE:If you don't see the answer to your question below, please click the "Ask Your Questions" button
Understanding Home Appraisals
Home Appraisers Don't "Give Value"
Home Appraisers Don't "Give Value"…and that confuses homeowners, REALTORS® and even other Appraisers
My Appraiser Peer, Gary Kristensen with Portland Oregon Appraisers, penned "Appraisers Do Not Give Value" Read the entire article at link above.
"We are now officially in the holiday season — the season of giving. As an appraiser, I am asked frequently by homeowners, real estate agents, and even by other appraisers, "What do you give for BLANK value?" ("BLANK" in this context can be anything related to real estate from a window, to a garage, to vacant land, to an entire structure.) The question is one that troubles me because of the word "give." My response to such a query is always, "Appraisers do not give value; we estimate value."
Why Agens Recommend Pre-Listing Appraisals
Why Would A REALTOR Recommend A Pre-Listing Appraisal?
Why Baton Rouge REALTORS® Recommend Pre-Listing Appraisals?
REALTORS® OR Agents are professionals trained to sell homes, trained to understand what buyers want in a home and community. Sometimes sellers don't have such an understanding and sometimes lack logical or realistic opinions about the true value of their homes and/or what it will take to sell their home. Sometimes Agents have a local Baton Rouge Home Appraiser involved in this process to help bring some reality to the seller's frame of mind. These are some reasons Agents recommend a Baton Rouge Pre-Listing Appraisal:
1.) Over Improvement
For example, the homeowner now seller decided to add $15,000 in slab granite slab granite in Kitchen and Bathrooms when it's not all at common for homes to have slab granite in that subdivision. Or, how about the owner that installs a $20,000 new Kitchen in a subdivision where the average home has spec home lower quality Kitchens? In the seller's opinion, they can't see the over improvement and think they've added $15,000 or $20,000 to the value of their home. How much extra value does over improving really add?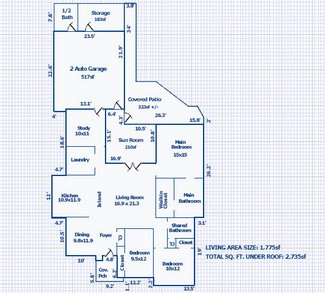 2.) Accurate Home Measurement
Agents are sales professionals, generally sharply dressed, and generally may not walk through thorny rose bushes to measure a home. 1.5 to 2 story homes present home measuring challenges. Some Agents would prefer to have an Appraiser professionally measure a home.
3.) Complexity
Sometimes Agents are asked to list homes with complex characteristics, such as:
A.) Outdated or unpopular design of a home
B.) A much larger than average and valuable lot.
C.) Out of balance situation of a much higher priced lot than the home, such as a $200,000 property where lot contributes $150,000 and older or outdated home only contributes $50,000
D.) A home fronting a busy street, boulevard or road where the situation isn't necessarily positive for value and/or making it more difficult to estimate value.
E.) A home located on a lot in transition from residential to commercial or retail uses, where lot home some commercial appeal. In Baton Rouge, that might mean a home fronting on Acadian Thruway, Siegen Lane, Staring Lane, etc..
4.) Rural or Lack of Comparable Sales
In a stable market where residents are happy to live there and rarely sell, sometimes there's just a lack of sellers and therefore, lack of comparable or competing sales making it more difficult for the Agent to estimate the listing price of a home.
5.) A Poorly Constructed Addition or Enclosure Without Proper Building Permits
HGTV has inflicted some serious damage to the American homeowner understanding of how real estate is supposed to work. It's more common than you'd believe where homeowners decide to pull a DIY (do it yourself) addition and/or enclosure. One example would be to enclose a carport not raising slab, not replacing wood ceiling with drywall, not upgrading central unit but just adding a window unit, installing indoor/outdoor carpet and the quality of construction not matching the home itself. AND, some homeowners do these DIY projects without the proper building permits. Lender instruct Appraisers to verify building permits and if no building permit was obtained, then not to count that area as living area.
6.) Over Built
Over 23 years of appraising homes, Bill Cobb has witnessed hundreds of homes where adding an addition and/or an enclosure made no sense for the subdivision. For example, homes in XYZ Subdivision where homes range from 1,400sf to 1,600sf and the home to be sold has 2,300sf, 700sf larger than what's normal.
7.) Odd Design or Odd Floor Plan
Bill Cobb Appraiser is working on a Pre-Listing appraisal right now of a New Orleans style luxury garden home that's been on the market for over 700 days. One reason is because Main or Master Bedroom is on second floor, which is a major reason this home isn't selling. In Baton Rouge, Contemporary home designs are not as popular and take longer on the market to sell. Same with Log Cabins.
8.) Cosmetically Dated Interiors
Severely dated homes prevent an estimating value question.
9.) Strong Pet Odor
Homeowners get use to pet odors over time and don't sense how offensive such pet odors have become. This is a home value issue! Bill Cobb is working on a Pre-Listing assignment in North Ascension Parish where a home has been listed, isn't selling and no buyers are interested. Why? Answer: 5 cats, a full litter box, 1 dog and their daughter raising stinky ducks in garage.